Kool Aid Man NTSC->PAL conversion

Posted Sunday, March 06, 2005 by Rasty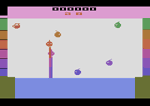 Download Kool Aid Man PAL

The game has now (mostly) correct colors on PAL Atari 2600's. The framerate is left untouched (60hz). This preserves the original speed but could be incompatible with some older PAL tv sets.

Here I also had to correct the number of scanlines since it was originally rendering a wrong amount which prevented it to display correct colors on an actual PAL 2600.


+Previous Posts